Here you will be find an overview of our outreach events and awards. Read about our adventures and learnings also in our UNAM Civic Innovation Lab Blog:
https://medium.com/blockchain-unam
Blockchainge DC 2019
We were invited to participate in the panel discussion of How Blockchain Scales Global Health Innovation in Mongolia and Beyond held at the conference Blockchain 2019 in Washington D.C.
Global health impacts require more than the existence of new breakthrough therapies, nimbler diagnostics and modernizing health systems. Questionable supply quality assurance, high regulatory costs, and expensive redundancies in the development of new drugs and devices make patient care less effect and pose higher costs and risks to health systems. Data integration and care coordination across the life sciences and healthcare sectors are hampered by a lack of standards-compliant interoperable infrastructure that can be relied upon by regulators and companies across an intertwined patchwork of value chains. Hear how one firm is leveraging blockchain to address these challenges in Mongolia and other countries.
In this discussion panel, Alberto Garcia, our panelist, talked about how the blockchain can change the healthcare industry. He also talked about how their investigations in identity & biometric at the HCI Lab in WVU are impacting the healthcare sector in countries like Mexico. They also touched on topics such as using Biometrics & blockchain we can provide more traceability & transparency in the medicaments distribution or provide a better way to manage identity, prevailing the privacy of the biometric's data.
As a part of the Conference, the HCI Lab, we start conversations with SparkLabs, a business accelerator for Blockchain projects, they are very interested in creating new collaborations with us, especially they are interested in the work we have done with the identity project on the blockchain and Covoir, the first winner project in the blockchain accelerator, MouseBelt. Covoir is a data carrier that helps smart contracts access real-world and unstructured data in real time. Covoir helps to verify the validity of health reports and send the report to the blockchain based application, such as blockchain based insurance. It provides a way to let the public familiar with blockchain based health care applications before the electronic health report all-round implementation and improve the method of blockchain-based applications access the real world data.
This post was written by Alberto Garcia and Chun-Wei Chiang
Covoir: Gana UNAM fondos para investigación sobre blockchain.
Reposted from:
http://www.comunicacionfi.unam.mx/mostrar_nota.php?id_noticia=1708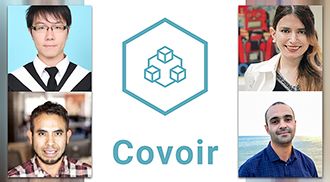 La aceleradora MouseBelt University, en el afán de construir una comunidad internacional sobre blockchain para compartir ideas, colaborar y crear nuevas investigaciones, financia el primer proyecto de blockchain surgido de una universidad, en este caso el proyecto ganador fue Covoir, impulsado por la Universidad Nacional Autónoma de México (UNAM) y la Universidad de California en Santa Bárbara (UCSB).
El equipo de Covoir está formado por los investigadores colaboradores de la Facultad de Ingeniería: Saiph Savage, Chun-Wei Chiang, Alberto García, así como Rubén Dermoyan, estudiante de Economía y Gestión de la Tecnología en la UCSB. Actualmente se encuentran trabajando en el laboratorio de la profesora Norma Elva Chávez de la FI.
Muchas aplicaciones de blockchain utilizan smart contracts (contratos inteligentes) para realizar acciones de forma autónoma y descentralizada. Por ejemplo, puedes tener un seguro montado en la Blockchain que te rembolsará dinero si tu vuelo se retrasa. Para poder funcionar, estos contratos inteligentes utilizan información del mundo real, por ejemplo, el horario de los vuelos; sin embargo, las aplicaciones actuales de blockchain solo pueden trabajar con información estructurada, es decir, que solo pueden operar con API's o servicios ya existentes y responder preguntas simples como "¿Mi vuelo se atrasó?".
Estos sistemas no pueden usarse actualmente para problemas más complejos, como tener un smart contract que vigilia si el Gobierno cumplió con su parte del contrato o si existió corrupción, ya que no existe una API para obtener esta información. Blockchain tiene el potencial para combatir la corrupción y traer transparencia a escala; no obstante, las soluciones actuales aún tienen muchas limitaciones.
Covoir es una aplicación que utiliza crowdsourcing para crear servicios de blockchain que sean más inteligentes y puedan tomar decisiones complejas con base en lo que sucede en el mundo real, es decir, propone nuevas técnicas para coordinar la inteligencia de las multitudes (crowdsourcing) y generar las respuestas que los smart contracts necesitan para recuperar información y generar decisiones en pocos segundos. La inteligencia de la multitud permite el acceso a datos que no se encuentran estructurados, además de que no pueden ser simplemente buscados en Google o proporcionados por una API.
Covoir tiene un modelo de negocio basado en proporcionar datos descentralizados del mundo real a cualquier tipo de contrato inteligente, desde cualquier fuente de datos estructurada o no estructurada en tiempo real.
Además, este proyecto está abordando un gran problema que ha impedido que los contratos inteligentes respondan a eventos complejos del mundo real de manera oportuna. Los desarrolladores esperan que su producto no solo ayude a los servicios actuales de blockchain, sino que también habrá nuevas aplicaciones y servicios nunca antes imaginados.
Para la competencia de Mousebelt, el equipo de Covoir compitió contra algunas de las mejores universidades de Estados Unidos, las cuales también están trabajando temas de Blockchain, como es la Universidad de Washington, UCLA, Duke University, entre otras. La UNAM en conjunto con la UCSB fueron las únicas universidades que triunfaron en esta primera edición.
"El equipo de Mousebelt está formado por personas apasionadas que trabajan arduamente y saben cómo ejecutar. Ver su ética de trabajo nos ha motivado a levantarnos y luchar para construir el futuro de Blockchain que soñamos. Realmente hemos disfrutado involucrarnos con los ingenieros de Mousebelt. A través de estas interacciones, sentimos que crecimos profesionalmente", comentaron los miembros del equipo de Covoir.
MXHacks V: Blockchain
We have been helping to organize the Blockchain vertical in the Fifth Edition of MXHacks!
*
When:
From September 7 to 9
*
Where:
Palacio de Mineria, Centro Historico
*
What will there be:
MXHacks will be hosting 3 verticals: The general, Machine Learning and Blockchain. With the support of Streamr, NEM and Bitso it has been possible to open a single space so far: A hackathon open to the public on technologies for decentralization and consensus in Mexico. A 3-day event that will feature food and support from great national and international experts.
Schedule:
How can I prepare?
Workshop - Hands On Ethereum by Streamr.
We are pleased to welcome one of the Startups from Sillicon Valley Crypto (Zug, Switzerland) to MXHacks, to mentor and give the workshop "Hands-On Ethereum". This workshop will be an approximation to the Ethereum and Solidity development ecosystem: The creation and deployment of Smart Contracts and Dapps development, although of course, if you are already experienced, you can ask the questions of the level of complexity you want. Streamr is creating open source platforms and solutions for the free and fair exchange of world data in real time. We will have the mentoring and participation of:
Juuso Takalainen | LinkedIn
Ethereum / Back-end developer Juuso is a full-stack Finnish developer and versatile software engineer. He has worked in and around the Ethereum ecosystem full time since 2016. His interests include recreational mathematics, the game of go (weiqi) and language learning, in fact he knows 6: Finnish, Swedish, German, Spanish, Chinese and English.
Weilei Yu | LinkedIn
Head of Developer Outreach Weilei is a full-stack LAMP software developer and data analyst with multiple years of experience. In recent years, he has worked on large scale Business Intelligence platforms and infrastructure, helping companies implement and manage Big Data analysis. 3 languages: Italian, Chinese, English.
*
When:
6:15 pm, September 7, 2018
*
Where:
MXHacks V - Ciudad Universitaria
Support material
Ethereum Developer Tools
Owocki, the founder of Gitcoin In collaboration with ConsenSys, He created a GitHub repository in which he lists (almost) all the indispensable tools for an Ethereum Developer. A very good list for both novice and experienced people.
CryptoZombies
It is an interactive code school that teaches you how to write smart contracts in Solidity by building your own cryptographic collectibles game. Loom Network project.
Dapp University
Dapp University is the project of Gregory, a developer that makes available all hours and hours of educational content around the Ethereum development ecosystem.
LINK TO THE YOUTUBE CHANNEL | LINK TO THE WEB